Often times learners with print disabilities face significant hurdles when presented with tasks that require expression. The incredible team at
PATINS
(
P
romoting
A
chievement through
T
echnology and
IN
struction for all
S
tudents) compiled in February of 2016 the following list of 13 tech tools to assist those who struggle when it comes to print disabilities and oral and written expression. The purpose of the list is to empower learners to "express" and show what they truly know.
--------------------------------------------------------------------------------------------------------------------------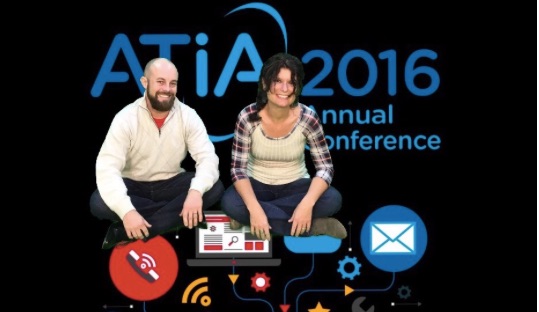 Give students with print disabilities systematic use of
accessible educational materials (AEM)
when print is a barrier to learning and the doors open to curriculum mastery, school success, independence, social-emotional growth and more.
Help At Hand Digital tools are a strategic means of "expression" for students who struggle with written and oral language. Thanks goes to Daniel McNulty, State Director PATINS Project and Kelli Suding, a PATINS Center Regional Coordinator in Indiana, a counterpart to AIM-VA. They shared some of their digital best bets at a session this month at the ATIA 2016 conference that is held annually by the not-for-profit membership organization of manufacturers, sellers and providers of technology-based assistive devices and/or services.
Free, Low Cost
These tools are readily available, and all are either free or low cost. Daniel and Kelli explained that after training even very challenged students can conduct research, gather content and, show what they know using voice/audio recording, supported writing, digital imagery, and video. Here are their recommendations:
Simplify Information
Rewordify.

: A free web tool to:
Simplify difficult English, for faster comprehension
Teach words and build vocabulary
Wikipedia.

: Go to the "Simplified English" tab found listed with other languages in the left hand column to provide students with a "real experience" in researching a topic in less complex language.
Produce Text
My 1st Keyboard App.

@ $1.99 for a limited time: A traditional and
alternative keyboard.

with drawn images embedded in letter shapes, large letters, and other supports
Spell Better.

is a free app that supports dyslexic and other struggling readers and writers by providing several literacy supports
Convey Meaning
Creative Commons
: Go here to teach about copyright protection for student products and the works that they use.
Flcker's Creative Commons photos
: This link or the "Only search with Creative Commons-licensed photos" on the main site limits choices and respects copyright.
PhotoFunia
: Have fun with photo effects and an online editor and make compositions and collages for free.
Pixlr-o-matic
: Find this photo and image effects tool ion the web, as a download, on Facebook, as an Chrome web app and for iOS or Android devices.
Photo-mapo
Check out this "maker" tool for $2.99 on the App Store to add a map and descriptions to a photo.
Green Screen
by Do-Ink @ $2.99 is an easy way to produce videos and photos on the iPad and iPhone.
Tellagami
: This app (free but with in-app purchases) makes quick videos about curriculum content and also supports instruction of social skills and emotions.
Book Creator
: A "must-have" app @ $4.99 to make ebooks on an iPad. There are over 15 million ebooks created thus far, including children's picture books, comic books, photo books, journals, and textbooks.
Explain Everything
: Use this interactive whiteboard @$3.99 to write, draw, record and explain what a student knows via video for iPads, Windows, and Chrome.
Follow AIM-VA on
Facebook
,
Pinterest
, and Twitter at
@AIMVirginia
and/or follow me
@aimnoncat.
Click here for the original PATINS article.